#MythpunkMonday: Arise!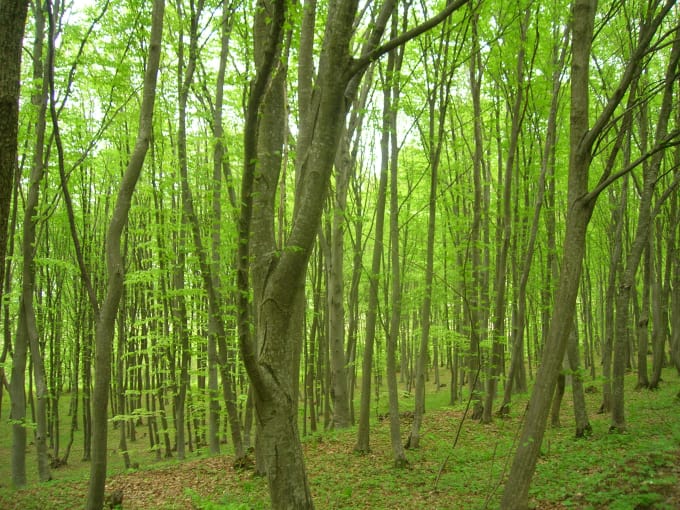 Photograph by Kovacs Orsi from www.freeimages.com
Happy #Mythpunk Monday!
Today I'm going to talk about trees! I find few things more inspiring than walking through a forest where the trees seem anthropomorphic. Coming from a spiritual tradition which taught me from the earliest age that all trees were living sentient beings with their own spirits and personalities, I find it interesting that people seem to be drawn more to commune with trees like oak and hawthorn who twist their trunks more readily into gnarled semblance of faces or limbs than, say, the linden, ash or birch who mostly grow straight up to the sky. Of course there are stories of slender-limbed, silver-skinned birch dryads; pretty young maidens dancing lithe and beautiful in wooded glades, but why do we only seem drawn to trees if we can view them as being in some way like ourselves? Even Tolkein's Ents had a human-likeness about them…
The phenomenon of Pareidolia may be in some way to blame here – the inherent nature of the brain to seek familiar patterns (particularly those of faces) in dissociated stimuli ; fire, clouds, tree bark, wall paper, rock surfaces, waves … it is a natural survival mechanism developed even before we are born to help us seek out our care givers, our kin and our kind.
But even as we grow older and are able to reason beyond our instinctive drives, wondering and questioning whether a tree spirit would or could or should look anything like us in order to be taken seriously and communed with… I know I am sometimes still guilty of being drawn to those tress who do.
Having said that, the tree spirit I have had the deepest relationship ever was a beautiful, strong, generous and resilient beech tree with little to no anthropomorphic qualities whatever – so perhaps there is a lesson for me eh?!
On the other hand, perhaps it depends on your tradition. Mine, as I say, teaches that trees are beings in their own right and unrelated to humans, although communion can and should be sought with them, but perhaps other pathways view things differently? Perhaps trees twist themselves into human like faces in order to try and communicate with us? Who knows? I'd be interested to hear other thoughts on this if you have them 🙂
What we do know and can say for certain is that we have worked trees into the heart of our mythologies and spiritual traditions since we first began imagining the beginning of ourselves and our world. Without trees we wouldn't have the planet as we know it and we seem to have been aware of this long before it was scientifically proven.
Many religions incorporate the idea of a World Tree, stretching its branches into the heavens and its roots down into the underworld, for example  égig érő fa in Hungarian Mythos, the Norse Yggdrasil, Ağaç Ana in Turkish Mythology, The Slavic oaks which even today form the Zapis tree-temples, the Hindu Ashvattha and the Chinese Jianmu.
Leaving aside the great and the grand of world religions and moving in to a more local level, trees have always played an important part in folklore too. Cloutie trees (as we call them here) can be found all over Europe ; trees where folk can leave a small offering in exchange for the tree's protection, blessing, healing or as a sign of thanks or respect.
My family made a great thing of visiting one of these shrines and leaving a rag of clothing and the story went that an old man was resting one day in his cloak when a poor child came by with none. The man took of his cloak – his last scrap of clothing – and gave it to the child. The tree saw the kindness of the man and sheltered him from the elements that night so no harm came to him. Then in thanks the man returned next year and tied a piece of his cloak to the tree and now all folk thanks the tree for it's kindness, but anyone who robs the tree will be cursed! I remember my little sister being too scared to go into the shrine in case she touched a rag and it fell!
Another tradition is to hammer pennies into the trunks of trees in exchange for wishes. This tradition has always rather angered and confused me as it must harm the tree, but a few years back, while visiting a fairy tree near Scar Fell, I was happy to learn the roots of one such tradition – it started some time around the 17th century during times of great famine when there wasn't enough work and many poor people were going hungry. Rich people in the area were encouraged to hammer coins into felled tree logs and wish for better times to come, then after dark (to spare their pride) the poor were encouraged to come and take the coins. The rich either believed or (more likely) played along with the notion that the fairies and taken their offering and were granting their wish and so things began to slowly improve. Of course it wasn't a solution to the problem but it is still a nice story about communities working together to help one another.
If you're interested in some really excellent research on the subject, look out Ceri Houlbrook's 'Coining The Coin Tree' here: https://www.research.manchester.ac.uk/portal/files/54558281/FULL_TEXT.PDF
We've talked a lot of myth today, soon I'm going to have a good look at how we incorporate tree Mythos into Mythpunk, because at first glance it's not an easy fit. But for now, I'll leave you with a little extract from my own tree-punk endeavours…
This extract is from Opre! which means Arise! It was written for Romani Family History Month and the Opre Roma! movement and it draws parody between the Romani people, (caught and enslaved both literally throughout history as in our enslavement in Eastern Europe and almost complete annihilation during Baro Porajmos (in some cases still today such as Italy ) and metaphorically today where many of us are still unable to live full lives with basic human rights simply because of who we are) and the trees which our ancestors, and still many of us today, revere in a spiritual way (caught and butchered and poisoned and 'put to use' by humanity)
But there is a hopeful beauty here too – the roots which push up the paving stones, the seeds which find root in the cracks between tarmac, the branches and leaves which coil over boundaries and fences… so our people have not been destroyed because we shoulder what the world throws at us and we carry on, we find a way to survive, and one day I believe we will arise, not to conquer or steal or enslave others but just to stand on equal ground as all people should…
OPRE
Our splintered marrow guards your precious ground
Not bought in blood, but taken in the twilight
When 'taking' was a thing we did not understand
Now sentinels bound, subservient you think we stand
Down inside those ringlets blacked by damp
Not the wind—kin to your own cur breath—
But the jewels it carries, diamonds, our inheritance,
We feel
Touching, unveiling in our stripped-bare bones
Kali …
If you liked this extract you can read the rest of it here on Vocal: https://poets.media/opre
Or in my Mythpunk collection Mahrime: Mythpunk For Monsters
Thanks for joining me for another #MythpunkMonday!  Feel free to leave me your own thoughts on trees, mythology and mythpunk in the comments and to join in and share your own Mythpunk, or someone else's that you've enjoyed, using the hashtag or in the comments below 🙂
4 responses