This #IndieThursday Collin is sharing his love of…
Blurb
The Druid path offers a person many valuable tools for coping in these challenging times. use your spiritual practice to underpin your activism, turn your lifestyle changes into offerings and find the means to stay inspired and hopeful. Explore how the bard path can be applied in face of climate chaos, how to practice self care for the benefit of the planet as a whole, how to harness your dreaming, and work with the elements to change your day to day life. Sustainable living should be the goal of any Druid's life.
---
This #indiethursday I'm sharing my love of ….
https://www.etsy.com/uk/listing/641871660/mapping-the-contours-poetry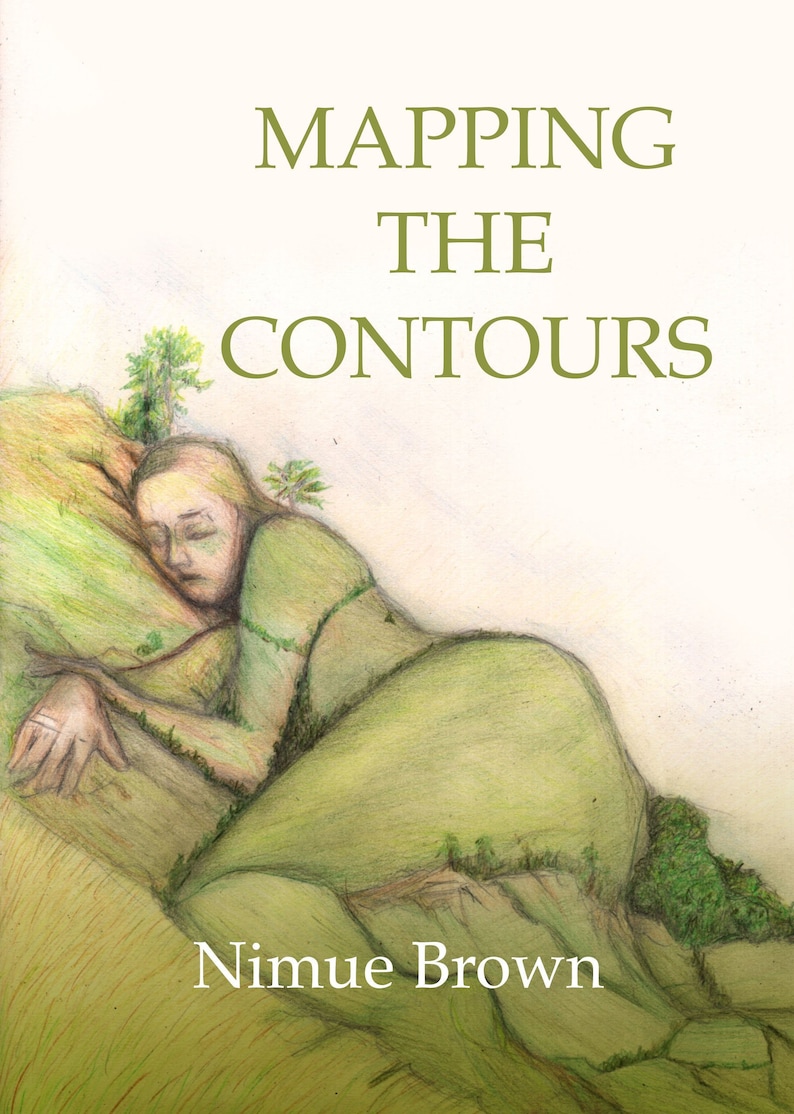 Blurb:
A small, self-published poetry book written by Nimue Brown, with cover by Tom and Nimue Brown, printed by Stroud Print.
Poetry exploring landscape and the relationships between humans and place, inspired by life along the Cotswold Edge and the Severn Vale.
Human bodies are much like landscapes.
We have our contours and crevices,
Signs of weathering, history written
Into soil and skin alike.
Some of us are flat land formations
Others are complex, curving hillscapes
Verdant forested or marble smooth.
Clay and bone and watercourse.
The places we are inhabiting
Inhabit us in turn, as we move
These bodies through localities, as the
Shape of them shapes or motions.
To compensate for my lack of time to do long reviews just now, I'm using the #indiethursday hashtag to share the indie love and point at some fabulous indie books I've enjoyed reading 😀
So, what fab indie fiction are you reading / writing this month? Blessings on your brew and best of luck with all your indie endeavours, lets keep flying the flag for indie writing!
---
Welcome to Steampunk'd Lancaster my dears! I am Mrs Baker, otherwise known as The Last Witch Of Pendle. My soup kitchen is rather quiet now for the summer, Max and Collin and all the little street urchins are out selling Lemonade, everyone else seems to be off on their holidays and things are overly quiet around the bakery. Nevermind, it gives me a chance to go through all the lovely postcards I have been receiving – although some appear to be mis-directed and others seem to be from dimensions I have never even heard of! Still, it is very nice to have mail, let us see now what have we got in the letter box today… oh it's from my dear friend Elen Sentier…
Lady's Window
Well, here I am, two hundred and fifty feet above the sea, on the edge of a vertical cliff. Gulls and jackdaws call overhead, a few kittiwakes perched on the cliff opposite, a seal playing down in the water below. Oh how inviting that water looks, all I have to do is step off the edge and I'd been down there, in the water, swimming with her. Well, actually, no – I'd bounce off a whole bunch of scary-looking pointy rocks on the way down, minced nicely for shark food, expect the basking sharks hereabouts are plankton-eaters. Hmmm! Perhaps I won't do that then!
I adore this place up on the cliffs of North Cornwall. I love that it's hidden too, you can't see it as you come up the path and in fact the path goes right on past, you have to deliberately turn off, go a different way, when you get to Firebeacon Hill. I did and sat awhile on the bench at the top, then slithered and skidded my way down the steep slope on the baked earth and slippery dry grass. Breathless, I sat in the cool shadow of the cliff for a few moments, it always gets my heart going doing that skid-walk! Then there's climbing through the hole …
Lady's Window is a huge hole in the rockface that stands up at the edge of the cliff. I don't know enough about geology to tell you why or how it does this, it looks incredible. From the top you think if you climb through you'll just crash down the rocks and into the sea below, but you don't. you can climb through the hole onto a path, quite a wide path considering, where you can walk out along the outer side of the cliff for twenty or thirty feet. Ha! Walk! No, I crawl. I have a lousy head for heights but a complete fascination with them.
So I creep through the hole, clutching at the rock, and out crawl onto the path. I go a little way along and sit down with my back to the rock wall. That feels safe, my heart calms down and I begin to be able to take in the views.
Only the sounds of nature out here, birds, the wash and thud of the sea on the cliff below, the wild mewl of a seal. A small sail-boat scuds along the horizon, looks like a little fishing boat, not fancy enough for a holiday-maker's yacht, maybe he's out for lobster pots.
The sun is going down, falling down the sky to go to bed in the sea. This is what I came for. Not long now. Down and down he goes until he's just sat on the edge of the horizon, sending a red-gold pathway back to Lady's Window and the cliff where I'm sat. It's so tempting to step out and walk that sun-path.
Later the full moon will rise and, later still, she will set out there in the west following the sun down into the sea. As she goes she too will make a pathway across the water, a moon bridge across to West-Over-the-Sea, our fairy lands and the Isles of the Dead, the lost lands that only emerge out of the sea at certain times. They will be there tonight. Will I walk the moon path? I don't know but, for now, I pull the quilt over me and stuff myself inside the bivi-bag. It's good to sleep in the sound of the sea. Wish you were here …
Elen Sentier
Lady's Window features in Moon Song, Elen's 2nd novel. It's where Isolde, the protagonist, sets out from to find the dead Tristan and bring him back so he can finish his magical songs. It's a really magical place where Elen spends some time every year.
Moon Song is a magical-realism mystery novel set in modern-day Cornwall. Isolde must find folk singer Tristan who killed himself before he finished a set of magical songs that help people heal. She succeeds but when she takes him back to the Isles of the Dead, where he can now rest in peace, she gets trapped there herself. Only courage and the willingness to literally jump of a cliff will save her.
Find Elen at www.elensentier.co.uk and on Instagram, Twitter, YouTube, Pinterest and Facebook, and all her books are on Amazon.
How delightful! Well we're coming to the end of summer now my dears, I hope you've had a wonderful holiday yourselves and enjoyed our series of steampunk summer postcards, as the weather starts to turn again and the Lemonade Trade begins to fizzle out for another year Max and Collin will be found fending off Liver Birds and Landlords in their subterranean parlour once more so do pop in and join them for their monday morning cuppa and tuesday elevenses, I will be opening up my soup kitchen again and looking out for some marvelous steampunk authors to help me dish up tasty soup and share their new books with our little Lancastrian street urchins, and of course our grumpy ghost Perilous Wight will be back in his lovely library with some splendid steampunk fiction to share with you all so, until then
Blessings on your brew my dears!
---