Good Morning Ladies and Gentlemen, welcome to the sweltering summer streets of steampunk'd Lancaster! You find us this morning still trying to sell enough lemonade to keep our sinister landlord off our proverbial backs (and our actual backs, in fact – he has recently fitted his walking cane with a morning star.)
So, can we interest you in a delightfully delinquent and relentlessly refreshing bottle of fiz? Brewed by our own fair tentacles? …. What? Oh, hold on a minute, who's this?
Well strap me into a corset and call me Susan, it's our dear friend Nimue Brown!  What brings you to this street corner, my darling? (Max, stop being rude and ridiculous)
N: This is what I get for borrowing a pair of trousers from Professor Elemental. At least we now know where and when I am, which is progress…
Well we are very, very glad the trousers went wrong because we have been simply dying to get our tentacles on a copy of Sinners – the newest release in your Hopeless, Maine Steampunk graphic novel series!  Please, do tell me you have some Hopeless Sinners tucked away somewhere about your person?
N: I'm like some kind of non-seasonal, less than perfectly masculine Father Christmas with a really dodgy sack just now. I've got all the Sinners. Hopeless Sinners.
The very best kind of Father Christmas then by all accounts! Thankyou! (Max take your mits off it you're getting it all sticky) we will certainly be reviewing that over a nice cup of tea in the parlour shortly, but before we get it home and out of its negligee (Hm? Oh it's called a 'dust jacket' is it? Sorry…) a-hem… do we get a little teaser as to what's inside? From the cover it looks like Sal has grown up a little!
N: No, you were right first time, it was a negligee, I may have got a bit carried away with the 'sinners' part. I don't think I've got any of the chained ones left…
Oh that is shame…
Yes, Sal is a bit more grown up at this point, but it's still a passably child friendly read, if the child has no fear of demons, elder gods, monstrous sea life and whatnot. Funny things happen, terrible things happen, and we find out more about the people who live underground on the island.
Now that is what I call a tease! And where can our good friends here get their hands (or indeed tentacles)  on a copy?
N: In theory, anywhere that sells books. In practice, you have to make an appropriate sacrifice at the full moon and pray to an elder God that the online store of your choosing will have copies and will not be charging an entirely random price for them! We've had issues in the pre-order period.
Well if anyone needs a potential sacrifice candidate we have a landlord we are willing to part with for noble purposes such as this so do shout…
Otherwise, watch out for Sloth Comics at comics events, or my betentacled crew at Asylum in Lincoln.
Splendid! Now look here, Mrs. Brown, I don't suppose you could help us sell a few bottles of this fiz here could you? My tentacles are drying out in this heat and Max's so called 'wit' is driving the punters away in… ouch!… I mean, is perhaps not to everyone's taste…
N:We could redeploy some of the negligees to protect those vulnerable tentacles, don't you think?
Hm, this reminds of that  pole dancing episode … Max get off that lampost people are starting to flee the street…
I don't know any lemonade songs. I've got a lemon song, but I mostly use it for stuffing chickens with. It goes (brace yourself)
'lemon up your bum, lemon up your bum, lots and lots of lovely lemons, lemons up your bum'.
Which might or might not sell lemonade, I suppose…
Well I think between the three of us we have managed to clear the docklands quicker than if someone had shouted 'PLAGUE!' … and now we may well be reduced to pole dancing again to make the rent this month, so may I keep the negligee?
Thankyou for joining us on the street corner this morning, we will be back soon with more splendid shenanigans and a super special announcement … or two… so, until then,
please be always,
Utterly Yourself
---
Good morning, Ladies and Gentlemen,  welcome to Max and Collin's fabulously festive and expertly extravagant  parlour located within the spledidly scenic city of Lancaster, Mor Ire.
True, some have called it an offensively ostentatious affair, filled with frivolous flamboyancy but we consider that such individuals are tasteless and we would never consider having them for supper.
You find us this morning turning the parlour into a veritable Wizmas Wonderland…
 Apparently the final battle between Wiz and The Goddess took place on the snowy peaks of Siberia. (Having visited Siberia ourselves recently we are, to be candid, a little sceptical of this assertion.) and so it is traditional to cover one's self and immediate surroundings in as much snow as possible throughout the Wizmas season. The more snow you are seen to sport, the more you likely to convince The Good Folk of your allegiance to our supreme ruler.
 Of course there is always the small problem that snow in The Scattered Isles is not the most common meteorological phenomenon. Still there are ways to fake snow and we have pushed the iceberg out this year on that front!
 We have carpeted the entire floor in sheets of cotton wool batting (We did try white crepe paper initially but it wasn't nearly as messy, irritating or difficult to remove, this cotton stuff soaks up the water from the cellar floor beautifully too!).
 The strange chains (which hang from the walls and do not invite us to ask our landlord their purpose) we have piled high with a mixture of baking soda, white and blue glitter, a few drops of vanilla and peppermint oil and a tsp or two of water just to get it to hold together. As Freddy is also chained to the wall we have simply wrapped him in tissue paper to keep him out of sight.
 Upon the tea table, we have carefully sculpted a pyramid from 'snow balls'. These were made by mixing glitter (again) with coconut flour and a little cold water.
 Sadly we no longer have any windows, this being a cellar afterall, otherwise we could have stuck baking parchment over them to make them look 'frosted.'
 As for our own attire, we have given eachother a fairly good dusting with white glitter and talcum powder and can safely say we look perfectly abominable.
We simply can't wait to see the look on Montmorency's face when he sees the effort we have gone to…true it is difficult to read the facial features of a psychotic scarecrow, but we tend to guess that when his head is leaning to the left he is in a better mood than when it is leaning to the right, he looks a little friendlier like that you see.
And our furry pals the Dustcats seem to have got into the mood as well!
 Anyway, now that we have enough snow to infuriate our landlord we can sit back with a nice cup of tea and begin writing our Wizmas cards. Fortunately, our fabulous friends over at Hopeless Maine have brought out several sets of 'alternative festive cards' this year to bring a massive helping of Steampunk Splendidness to the season! 'Steamed Pudding' , 'He Hears His Master's Holiday Message' and 'A Hopeless Holiday' are available from the Hopeless Maine etsy shop (click the image to go straight there) and can be bought as separate designs or as a multi-pack! So if Robins and Penguins and fat men in red suits are putting you off reminding your loved ones that you still exist and would appreciate cash or brandy this year rather than socks or arrest warrants , no more excuses eh? …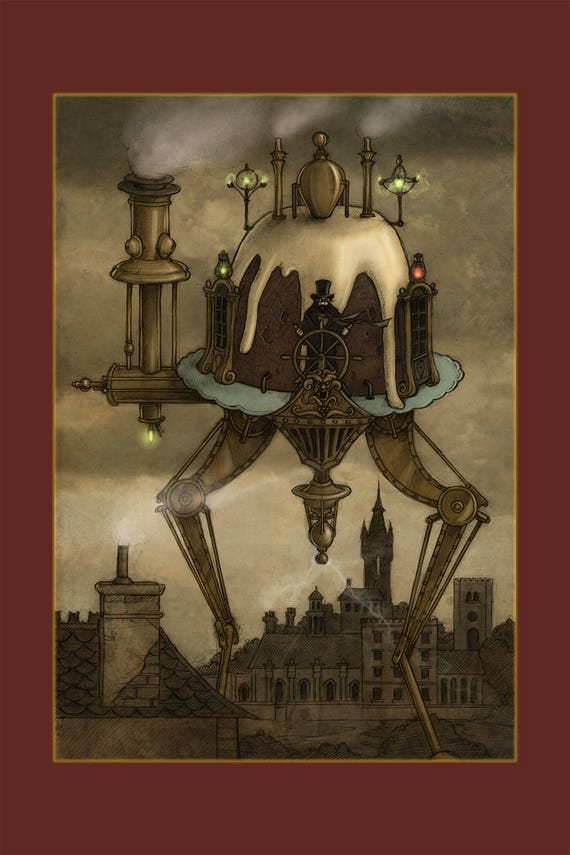 Now all that is needed is some suitably seasonal audios to usher in the afternoon so let us tune in our Tesla Radio and ….
 Marvellous! We wish you all a very splendidly snow filled afternoon, and we invite you back to join us soon for more festive fabulousness. So, until then please be always,
Utterly Yourself
---
Good morning Ladies and Gentlemen! Well, it seems the Dustcats of Hopeless Maine are taking over our little parlour for the festive season in some strange steampunk parody of your earthly tradition of 'Advent' . Having put them sternly to bed on the mantle piece again last night we found them this morning in a state of spoons… with yet another odd note…
---
---