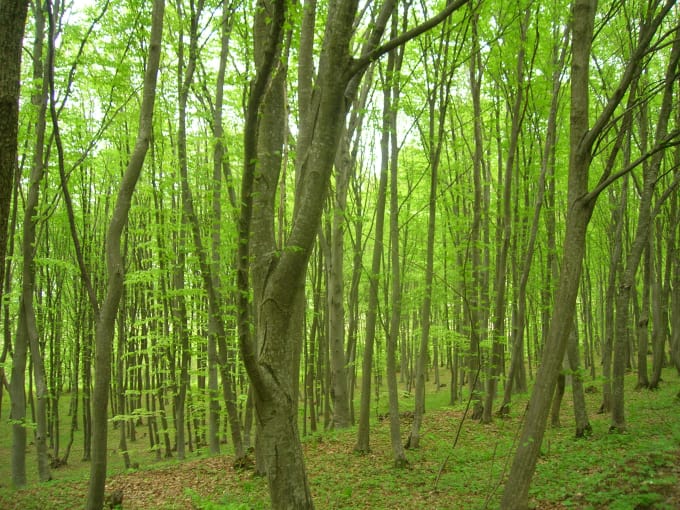 Photograph by Kovacs Orsi from www.freeimages.com
Happy #Mythpunk Monday!
Today I'm going to talk about trees! I find few things more inspiring than walking through a forest where the trees seem anthropomorphic. Coming from a spiritual tradition which taught me from the earliest age that all trees were living sentient beings with their own spirits and personalities, I find it interesting that people seem to be drawn more to commune with trees like oak and hawthorn who twist their trunks more readily into gnarled semblance of faces or limbs than, say, the linden, ash or birch who mostly grow straight up to the sky. Of course there are stories of slender-limbed, silver-skinned birch dryads; pretty young maidens dancing lithe and beautiful in wooded glades, but why do we only seem drawn to trees if we can view them as being in some way like ourselves? Even Tolkein's Ents had a human-likeness about them…
The phenomenon of Pareidolia may be in some way to blame here – the inherent nature of the brain to seek familiar patterns (particularly those of faces) in dissociated stimuli ; fire, clouds, tree bark, wall paper, rock surfaces, waves … it is a natural survival mechanism developed even before we are born to help us seek out our care givers, our kin and our kind.
But even as we grow older and are able to reason beyond our instinctive drives, wondering and questioning whether a tree spirit would or could or should look anything like us in order to be taken seriously and communed with… I know I am sometimes still guilty of being drawn to those tress who do.
Having said that, the tree spirit I have had the deepest relationship ever was a beautiful, strong, generous and resilient beech tree with little to no anthropomorphic qualities whatever – so perhaps there is a lesson for me eh?!
On the other hand, perhaps it depends on your tradition. Mine, as I say, teaches that trees are beings in their own right and unrelated to humans, although communion can and should be sought with them, but perhaps other pathways view things differently? Perhaps trees twist themselves into human like faces in order to try and communicate with us? Who knows? I'd be interested to hear other thoughts on this if you have them 🙂
What we do know and can say for certain is that we have worked trees into the heart of our mythologies and spiritual traditions since we first began imagining the beginning of ourselves and our world. Without trees we wouldn't have the planet as we know it and we seem to have been aware of this long before it was scientifically proven.
Many religions incorporate the idea of a World Tree, stretching its branches into the heavens and its roots down into the underworld, for example  égig érő fa in Hungarian Mythos, the Norse Yggdrasil, Ağaç Ana in Turkish Mythology, The Slavic oaks which even today form the Zapis tree-temples, the Hindu Ashvattha and the Chinese Jianmu.
Leaving aside the great and the grand of world religions and moving in to a more local level, trees have always played an important part in folklore too. Cloutie trees (as we call them here) can be found all over Europe ; trees where folk can leave a small offering in exchange for the tree's protection, blessing, healing or as a sign of thanks or respect.
My family made a great thing of visiting one of these shrines and leaving a rag of clothing and the story went that an old man was resting one day in his cloak when a poor child came by with none. The man took of his cloak – his last scrap of clothing – and gave it to the child. The tree saw the kindness of the man and sheltered him from the elements that night so no harm came to him. Then in thanks the man returned next year and tied a piece of his cloak to the tree and now all folk thanks the tree for it's kindness, but anyone who robs the tree will be cursed! I remember my little sister being too scared to go into the shrine in case she touched a rag and it fell!
Another tradition is to hammer pennies into the trunks of trees in exchange for wishes. This tradition has always rather angered and confused me as it must harm the tree, but a few years back, while visiting a fairy tree near Scar Fell, I was happy to learn the roots of one such tradition – it started some time around the 17th century during times of great famine when there wasn't enough work and many poor people were going hungry. Rich people in the area were encouraged to hammer coins into felled tree logs and wish for better times to come, then after dark (to spare their pride) the poor were encouraged to come and take the coins. The rich either believed or (more likely) played along with the notion that the fairies and taken their offering and were granting their wish and so things began to slowly improve. Of course it wasn't a solution to the problem but it is still a nice story about communities working together to help one another.
If you're interested in some really excellent research on the subject, look out Ceri Houlbrook's 'Coining The Coin Tree' here: https://www.research.manchester.ac.uk/portal/files/54558281/FULL_TEXT.PDF
We've talked a lot of myth today, soon I'm going to have a good look at how we incorporate tree Mythos into Mythpunk, because at first glance it's not an easy fit. But for now, I'll leave you with a little extract from my own tree-punk endeavours…
This extract is from Opre! which means Arise! It was written for Romani Family History Month and the Opre Roma! movement and it draws parody between the Romani people, (caught and enslaved both literally throughout history as in our enslavement in Eastern Europe and almost complete annihilation during Baro Porajmos (in some cases still today such as Italy ) and metaphorically today where many of us are still unable to live full lives with basic human rights simply because of who we are) and the trees which our ancestors, and still many of us today, revere in a spiritual way (caught and butchered and poisoned and 'put to use' by humanity)
But there is a hopeful beauty here too – the roots which push up the paving stones, the seeds which find root in the cracks between tarmac, the branches and leaves which coil over boundaries and fences… so our people have not been destroyed because we shoulder what the world throws at us and we carry on, we find a way to survive, and one day I believe we will arise, not to conquer or steal or enslave others but just to stand on equal ground as all people should…
OPRE
Our splintered marrow guards your precious ground
Not bought in blood, but taken in the twilight
When 'taking' was a thing we did not understand
Now sentinels bound, subservient you think we stand
Down inside those ringlets blacked by damp
Not the wind—kin to your own cur breath—
But the jewels it carries, diamonds, our inheritance,
We feel
Touching, unveiling in our stripped-bare bones
Kali …
If you liked this extract you can read the rest of it here on Vocal: https://poets.media/opre
Or in my Mythpunk collection Mahrime: Mythpunk For Monsters
Thanks for joining me for another #MythpunkMonday!  Feel free to leave me your own thoughts on trees, mythology and mythpunk in the comments and to join in and share your own Mythpunk, or someone else's that you've enjoyed, using the hashtag or in the comments below 🙂
---
Good morning ladies and gentlemen, thankyou for joining us once again on the swelteringly sultry streets of Steampunk'd Lancaster as we attempt to sell bottles of illegal home brewed lemonade in a desperate bid to pay our rent.
At least that is our ruse for loitering on this street corner this morning, but shhh, step closer, we have something to show you…
If you've been with us for some time you'll probably be aware that our mistress, Penny, as well as leading a secret double life as an incorrigible octopus and his unnerving gentleman friend (that's us by the way and we're not sure we care for the description!) also writes short stories, poems and prose with a far less frivolous flavour in the Mythpunk genre.
If you weren't aware, you can read some of them here for free: PENNY BLAKE ON VOCAL POETS 
Mahrime – Mythpunk For Monsters is a collection of  mischievously mutilated and punk'd-up folk tales heavily influenced by Penny's Rromani cultural heritage. Each poem, story or prose piece explores the themes of identity, power and love by putting the monsters, the outsiders, the outcasts, the 'unblessed' right at the heart of the narrative.
It's available now to pre-order on Kindle, free with Kindle Unlimited or 0.99 without and also in paperback if that's what you prefer (the paperback is full colour with black pages, white text and beautiful white mandala art work by ArtsyBee and comes with a free Kindle copy)
"And what is Mythpunk?" we hear some of you ask…
Mythpunk can be as simple as taking a traditional tale and re-working it to produce something fresh, inspiring and new , or it can be a far more complex synthesising of cultural and mythological evolution; a deep exploration into the cultural psyche or an unflinching dissection of archaic archetypes. A lot of Steampunk involves some Mythpunking along the way and a lot of Mythpunk has a decidedly Steampunk flavour.
So, now that we know exactly what we're letting ourselves in for , lets take a little sneak peek at just some of the things inside the cover…
Mahrime
Mahrime means ritually unclean  / unblessed in Rromani language, it is akin to the word Unseelie in Celtic lore but it is applied to people. The title story in this collection draws heavily on the experiences and mythology of Rromani People and explores the historical out-casting of certain groups and types of people who are branded as 'monsters' because their existence is at odds with a dominant cultural or religious ideal. It also goes deeper to hint at the aspects of self which we choose to lock away because we believe them to be unlovable or unacceptable.
The Road Back Lost
This Mythpunk'd version of The Company Of Wolves is a response to the ideal that we all have both an internal and external collective of wise guiding voices who can teach us our culture, our heritage, our purpose and our place in the world; these voices, intuitions, bodies of lore, family, elders, clan-folk etc are supposed to teach and guide us safely through the wild woods of life and all the dangers therein but what if we don't have them? What if our family or culture or bodies of lore or even our parents and home have been lost to us? This is the situation for many people today as war and poverty tares children away from their families and cultural white-washing tares culture away from people and places it in the hands of the fashion industry. So what can we do? Try to go back? Try to move forward? Or stay and become the wolf?
DAMAO
Damao means 'to overcome' ; the final piece of prose in this collection echoes the hopeful thought that is embedded throughout the book  – with solidarity and support for eachother we can overcome the problems inherent with being labelled 'outcast' or 'monster', we are not alone and we will endure.
So there you have it, Mythpunk for Monsters, we hope you enjoy it, and now I think we will just sit back on this soap box here and sample some of our own lemonade, this day is far too hot to be doing any work and my tentacles are wilting despite the negligee we borrowed from Nimue Brown and her Hopeless Sinners yesterday I think what I really need is a parasol…
Thankyou for joining us on the street corner today, hm? What's that Max? You think YOU ought to write a book? Honestly, I really don't think ANYONE is going to be interested in anything you have to say… well alright then I will 'wait and see!' … and who exactly do think will publish such an atrocity? Hm? …. oh you'll 'find a group of marvelous monsters as mad about tea and tentacles as you are' will you? Well good luck with that my friend! I shan't be holding my breath…
While we wait to see what, if anything, comes of Max's new ambition, let me thank you once again for joining us today and for supporting our endeavors as always and whatever kind of monster you happen to be please, do remain always,
Utterly Yourself.
---
Good evening and welcome to my awe-inspiring aethenaeum of  praiseworthy pamphlets…or as some ridiculous personages have dubbed it – my lovely library.
I am Perilous Wight and here in the bowels of the city of Lancaster, in the disused tunnels of an underground train system that never was, I have made it my mission to collect every book that our self-proclaimed 'supreme ruler f the universe' and his mincing minions have banned from the bookshelves of the new world.
But this is not a public convenience! If you have wandered in here on the ill-advice of a pun-happy octopus and its alleged Gentleman Friend,you had best turn yourself around and wander out again! You will find no dreary double entendres, no pathetic punning or ridiculous riddle-rendering down here; here there is only the dark and the damp, the flickering of candlelight and the ceaseless toil of a man who did not re-animate from the dead to be pestered by people wanting bedtime stories!
But wait…what's that you have tucked away under your arm there? Amontilado? A whole cask you say? Oh….well, yes perhaps it is about time I put my feet up for a while, pipe and slippers and a little drop of something, the day has, after all been a long one. And I suppose I could read a very little something,
like this perhaps…
THE WYVERN – an unscrupulous piece of skulduggery By Penny Blake 
Once upon a teatime merry, as I set my table heavy
Laden up with scones and crumpets, florentines and cakes galore
Whilst I sat, my tea a –lapping, suddenly there came a tapping
As of someone gently rapping, rapping at my parlour door
'Tis some visitor,' I muttered 'tapping at my parlour door
Wanting tea, oh what a bore!'
Up I leapt, I well remember, flung the tea into the fender
Grabbed the table, newly laden, cast its contents to the floor
Eagerly I sought the dustpan, with its brush and so I began
To erase the scene of plenty, lest this guest from me implore
Sustenance. I, diligently, swept each last crumb from the floor
Evidence was there no more.
Still the tapping came, now ruder, heralding this bold intruder
'Gods above', thought I, 'a teatime never suffered thus before'
So that now, to still the beating of my heart, I stood repeating
'Let them in, tis merry meeting, not a crumb sits on the floor.
Chat a while and then, politely, show them once again the door.
Then begin the tea once more.'
Presently my soul grew stronger, hesitating then no longer,
'Sir' said I 'or Madam truly your forgiveness I implore;
But the fact is I was lapping tea, no, sorry, I was napping
And so gently you came tapping, tapping at my parlour door
That I scarce was sure I heard you' – here I opened wide the door: –
Darkness there and nothing more.
Feeling vexed, my temper miffin, at this wanton waste of tiffin
And unfounded fears that caused me to cast all upon the floor,
Silently I stood upbraiding, all my senses and degrading
Every cell which had imagined rapping at my parlour door
'Fool' I muttered 'now the table must be spread as was before.
What an utter bloody chore.'
Back again to spread the table, just as fast as I was able
Soon again I heard a tapping, somewhat louder than before
'Surely,' said I 'tis no fancy, this time and I must happensee
What it is that so insists on plaguing thus my parlour door
Let my teacup rest a moment and this mystery I'll explore
Then I'll sup in peace once more.'
Open here I flung, with meaning, parlour door and, brightly gleaming,
In there stepped a clockwork wyvern, hot breath crackling the air
Not a single greeting gave he, not a moment stopped or stayed he
But, as I cried 'some god save me from this beast oh I declare,'
Perched himself upon the silken cushion of my favourite chair –
'Look here, sunshine that's my chair!'
Not forgetting I was British, though I felt a little skittish
At the grave and stern decorum of the countenance it wore
'Sir,' I said 'Would you partake, with me, in having tea and cake?
As you can see a finer table never was there spread before –
But the creature shook its head and, pointing to me with a claw,
Quoth the wyvern 'One cup more.'
Much I chuckled this creation to hear hest, as if libation,
One more cup of this sweet nectar for myself I should now pour
'sure' said I 'some fiend hath sent thee, For amusement he hath leant me
Tempter sent to thus torment me, with this mantra 'one cup more'
Sent this brass abomination for amusement to implore
Me to drink 'just one cup more'
But the wyvern, sitting brazen, on my cushions it had taken,
Fixed me with its burning eyes and, once again, it did implore
Nothing further then it spoke – till I said 'tis some bad joke
But to appease thee I'll oblige' and so a cup I then did pour
Drank and thought the matter ended, rose to show the thing the door
Then it chanted 'one cup more.'
'Be that phrase our sign of parting, Hullish fiend!' I shrieked, upstarting
'Take thy talons from my teapot, and vacate my chair once more
Thou hast made a grave mistake in thinking I would certain break
My will and meekly thus partake, at your demand, this 'one cup more'
Certain your corruption I will not endure a moment more
Quoth the wyvern 'One cup more.'
'Villain', said I 'thing of evil – sent from Hull and certain devil
I will lap this tea at leisure, and if I chose now to pour
For myself another cup, it's only for myself I sup
And not a shred of credit to you, fiendish thing that doth implore
Wicked wyvern, by your words I'm putting neither stock nor store,
Still, I will have one cup more.'
And, alas, I still am sitting, still am sipping, still am sipping
On bequest of this grim wyvern, one cup more, just one cup more
And his eyes have all the seeming, of a demon's that is scheming
And his scales, still brightly gleaming, I have come now to adore
As I, dutifully lift the teapot and again outpour
For myself 'just one cup more…'
Hmm, one cup more? Don't mind if I do…oh, what's that you say? Getting late? You really ought to be going?  Oh dear, surely you can stay for just a little while longer, I mean it is after dark and Lord Ashton will have unleashed his flesh-eating Liver Birds by now, you really don't want to be mistaken for a vagrant out there on the Lancaster streets and there's still plenty left in the bottle…
---